Written by Marco Carvajal
2022 Mazda CX-30 Premium Package
The Mazda CX-30 is a compact crossover SUV supercharged by a strong four-wheel drive system and a Skyactiv-G 2.5-liter four-cylinder naturally aspirated engine. This SUV has a nice compact medium size, and it is enhanced by a high level of equipment and technology.  The CX-30 has a lightweight construction that helps improve performance and fuel economy. 
The new Mazda CX-30 is inspired by the previous Mazda3 sedan, one of Mazda's more popular models.  Mazda is known for producing good value, and great pricing that looks very appealing and luxurious.
This new CX-30 crossover is distinguished by its style, interior sophistication, and dynamic performance, but what is very impressive is that Mazda is able to produce at a very low cost with impressive pricing and value, almost hard to believe that this handsome stylish AWD SUV starts at only $22K, a very low price for a very attractive and competitive SUV.
The CX-30 includes most requirements that drivers expect in a compact SUV, including comfort, safety, and technology. The most expensive trim models get more, with the top-of-the-line CX‑30 2.5 TURBO PREMIUM PLUS starting at around $34K.
As I drive the CX-30 I can feel the power of its engine and enjoy a precise ride. On the outside the CX-30 looks fantastic, from bottom to top, and from front to rear, the curves of this Mazda automobile are very attractive and it gives a modern and stylish impression at first sight.
CX-30 Performance
One of the great features of the CX-30 is its Standard i-Activ AWD all-wheel-drive, and the new turbocharged engine. that enhances the performance in all CX-30 turbo trim models delivering 250 horsepower and 320 lb-ft of torque.
Base models and non-turbo trim models come standard with a Mazda's Skyactiv-G 2.5-liter four-cylinder naturally aspirated engine. This strong and efficient engine can deliver up to 186 horsepower and 186 lb-ft of torque.
The CX-30 engine is paired with a quick-shifting six-speed automatic transmission with manual mode and sport mode.
Standard i-Activsense safety features include Mazda Radar Cruise Control with Stop and Go, Smart Brake Support, High Beam Control, and Lane Departure Warning with Lane Keep Assist among other smart features.
Mazda Connected Services is complimentary for three years, which provides the owner with the ability to monitor and control the state of the CX-30 remotely by logging into the MyMazda app and includes an in-car Wi-Fi hotspot for a three-month or 2GB trial, whichever comes first.
The CX-30 is one of the fastest models in its class, making this car not only very attractive but also a very sporty ride that can take you everywhere.
Driving this SUV offers smooth driving on rough pavement, with good driving dynamics and a nice suspension system.
CX-30 Trims and Pricing
The Mazda CX-30 is built at Mazda's Hiroshima plants in Japan, and also at the Mazda plant in Salamanca, Guanajuato, Mexico.
The Mazda CX-30 is available in the following trims, 2.5 S, Select, S Preferred, 2.5 Carbon Edition, Premium, 2.5 Turbo, 2.5 Turbo Premium, and 2.5 Turbo Premium Plus.
Pricing for the 2022 Mazda CX-30 is very low, making this compact SUV a great value for car buyers who want to buy a beautiful car but stay on a low budget. The CX-30 is available with very flexible pricing for almost any budget. Starting at $22K with the 2.5 S trim all the way to the top model CX-30 2.5 Turbo Premium Plus priced at $34K.
whichever model you decide to purchase, from the 2.5 S base price to the top-of-the-line trim Turbo Premium Plus, you are getting a great deal in terms of all the features, style, and performance compared to what you will pay for.
CX‑30 2.5 S
CX‑30 2.5 SELECT
CX‑30 2.5 S PREFERRED
CX‑30 2.5

CARBON

 EDITION 
CX‑30 2.5 PREMIUM
CX‑30 2.5 TURBO
CX‑30 2.5 TURBO PREMIUM
CX‑30 2.5 TURBO PREMIUM PLUS
The CX-30 2.5 S base model comes nicely equipped with features like LED lighting, alloy wheels, and an 8.8-inch infotainment screen.
Tinted rear windows, Apple CarPlay and Android Auto, simulated leather upholstery, and dual-zone automatic climate control can be added.
The Premium version I am test driving includes a 12-speaker Bose audio system, heated seats, and some minor lighting changes. This Bose premium system sounds fantastic and it helps you feel the premium trim quality and level as you ride and listen to music with high definition.  Especially for a compact SUV 12 speakers can produce perfect sound distribution inside the CX-30.
The Premium brings even more features, including a head-up display, custom headlights, full leather seats, and a power liftgate.
The Turbocharged Premium Plus version is offered with the turbocharged engine and tops the list of features with Front and rear parking sensors, rear cross-traffic with automatic braking, surround-view camera system, and traffic jam assist.
The interior design of the CX-30 is modern and unique with cutting-edge minimalist style and the quality of its materials, which far exceeds the expectations of its class. Even if the CX-30 is technically a small SUV, its cabin feels roomy, in the front seats, 6-foot-tall people have ample room in all directions.
The front seats are comfortable enough for long trips. The rear seats are well-padded and offer a good seating position that isn't too upright.
Technology
Advanced safety and driving aids are among the best in class. The CX-30 also exhibits far more driving refinement than one would expect from a vehicle at this price point.
Connecting to the Mazda information system is easy and intuitive with the 8.8-inch infotainment screen perfectly positioned in the driver's line of sight, including Apple CarPlay and Android Auto.
Safety includes antilock disc brakes, traction control, active front head restraints, a rearview camera, front side airbags, and side curtain airbags.
The CX-30 offers very good driver assistance features such as forward collision warning with automatic braking and lane keeping assist.
The CX-30 Turbo is one of the fastest cars in its class. The steering is sharp and gives you a good feel for the road.
Mazda CX 30 a vehicle with a human-centric approach, with a strong design, fun driving dynamics and a lot of technology.
Mazda is the perfect car to drive when you want to spend less and get a car that looks more expensive and luxurious, especially on the exterior. If you want to impress then Mazda will do the job! It feels modern and sober at the same time.
The CX-30 has a very appealing design as a small SUV size.  Following you will find The CX-5 and the CX-50 with medium sizes, but the CX-30 gives you a perfect size for city drivers who want a nice SUV with a good practical size that looks amazing on the exterior.
The CX-30 SUV debuted a few years ago at the 2019 Geneva Motor Show. The Mazda CX-30 first went on sale in Japan on October 24, 2019.
World units of the Mazda CX-30 were produced simultaneously at the Mazda plant in Hiroshima while units in the Americas were built in Salamanca, Guanajuato, Mexico, and also the first Australian cars produced at the AutoAlliance plant in Thailand in Rayong, in addition to units for the Chinese market, produced in Nanjing by Changan Mazda and other markets.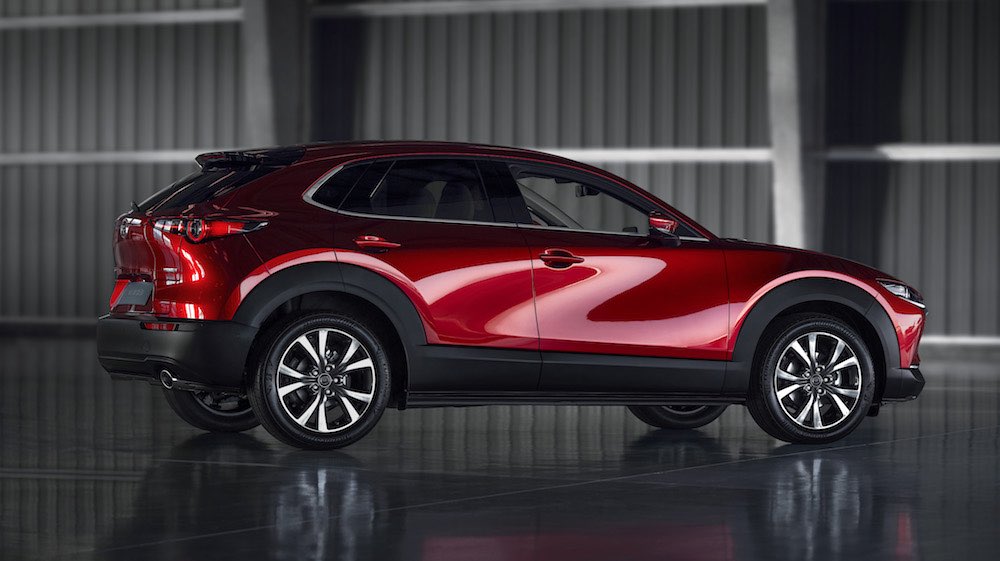 CX-30 program manager Naohito Sagi notes that the new model has been designed for drivers who are still single or married and starting a family in the United States. Then Mazda chief designer Rio Yanagisawa said it would be more acceptable as a family car in Europe and Japan.
The post The Mazda CX-30 a Stylish AWD SUV starting at only 22K appeared first on AutomotorPro.com.